Presidium – Our Flagship Patio & Deck Awning Framework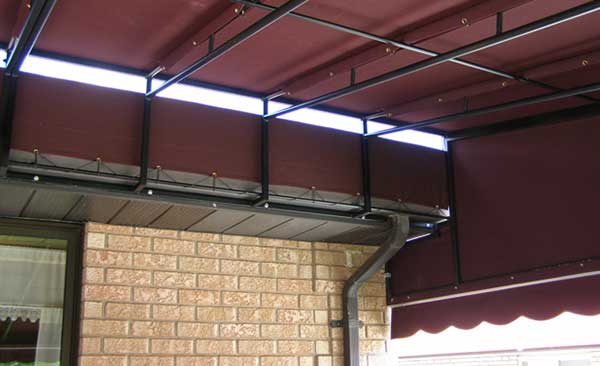 A patio or deck awning isn't something you can just run out and take down during a windstorm or during a heavy snowfall. That's why, at Awning Concepts & Design, we developed the only awning framework you will ever need.
Stays up all year, designed to handle snow and wind loads.
The Presidium is a specially designed steel framework that stands up to whatever mother nature dishes out. The Presidium framework is designed to be a permanent part of your deck or awning. It stays up all year and is designed to withstand snow loads, high winds and heavy rain.
BBQ all year in style and protected from the elements by your Presidium patio awning from ACD.
Presidium is built to last with many extras that the other companies fail to incorporate
Be the envy of your neighborhood when you BBQ all year long under the comfort and protection of your Presidium Awning
At Awning Concepts & Design we are committed to building the best and our Presidium Awning clearly shows this by handling our Canadian snow and wind loads with ease
The framework is built from Galvalum Steel – highly durable, won't need replacing for more than 25 or 30 years
No painting required!
Sunbrella Fabric
Your Presidium Awning is an investment in your property. That investment shouldn't end when it comes to the fabric covering your awning. We use only the most durable, colorfast fabric on our awnings. Sunbrella comes in a large range of colors and patterns to customize the look of your awning to match your home and decor.
Sunbrella is the #1 name in long lasting material for durability
Hundreds of color combinations to fit any exterior color scheme
Highly resistant to fading and sun-bleaching
Life span of 10 to 15yrs before a patio awning needs to be recovered – the Presidium framework will still be in top condition
Pole curtains add the decorative finishing touch to your new outdoor living space
Optional roll curtains can create privacy or block the western sun while you're dining under the Presidium awning
Our Service Area
We custom design and manufacture patio awnings for homes and businesses in the LaSalle, Windsor, Leamington, and Chatham-Kent area.  Contact us to schedule a free consultation.