Second Generation Custom Awning Manufacturer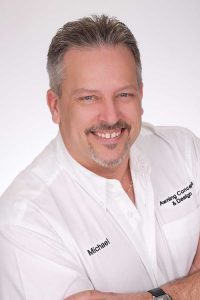 Mike Pataky, owner of Awning Concepts & Design, has been in the business since he was a kid. Mike's father, John, was an established manufacturer of aluminum windows, doors, awnings and railings in the Windsor area. During the summer and after school, Mike helped at his father's business resulting in a well developed work ethic and forming the skills that would help him in the creation of his own business.
John Pataky was the area expert in manufacturing and installing aluminum awnings in the Windsor and Essex County areas. At that time, aluminum awning products were the most durable and attractive option. Over time the desire for aluminum awnings diminished with the development of the new products we use today. Sunbrella and Harbour Time waterproof fabrics used in combination with a structural Galvalum steel framework allow us to manufacture durable patio awnings that are attractive and cost effective.
As he intuitively transitioned with the growing market, Mike maintained the acquired knowledge, skills and values of the old days. He produces a product that his customers love, but with an old-fashioned approachable business sense.
"I am proud to say my career in the awning industry has spanned
over 34 years and it continues to grow today."
The Team
Awning Concepts & Design employs a team of professional manufacturers and installers that have been trained especially for this job. Your new awning will be installed efficiently and with minimal disruption to your property. We will treat you and your home with the utmost courtesy.
Our Service Area
We custom design and manufacture patio awnings for homes and businesses in the LaSalle, Windsor, Leamington, and Chatham-Kent area.  Contact us to schedule a free consultation.