Retractable Pergola Roof Systems
Pergolas are unique design structures that enhance to the style of your Windsor, Chatham, or Leamington area home, while reflecting your personal taste. Have you built a beautiful pergola only to realize you are not getting the protection you thought you would have? Has rain dampened your parties as a result of your pergola not sheltering you and your guests? Now you can increase the practical use of your pergola by adding a retractable system for shade and rain protection.
"Shade when you need it,
Sun when you want it!"
Awning Concepts & Design uses Sunbrella fabric or Harbour Time waterproof fabric to design an awning that will give your pergola a more useful purpose in creating your outdoor living space. Maintain the look of your pergola while also making it a comfortable retreat from the sun, rain and wind.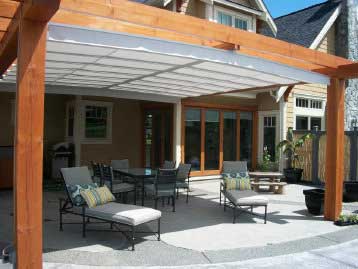 Adjust The Sun
You now have control over how much sun you're exposed to. Depending on the time of day, you can fully extend your awning cover, completely retract it for full sun exposure, or adjust it for partial cover to meet your preference or requirements.
Protection From the Elements
In addition to protecting you, your children, or your guests from the elements, your outdoor furniture will last longer. Metal furniture, decor and barbecues will remain rust-free longer. Reduce fading on patio cushions and pillows that will stay fresher and dryer.
The durable retraction system will stand up to the elements, and is easy to use. Available operating options include motorized, manual and rope pulley system units.
Our Service Area
We custom design and manufacture pergolas for homes and businesses in the Windsor, Leamington, and Chatham-Kent area.  Contact us to schedule a free consultation.